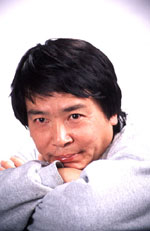 Shang Ding was born in 1954 in Kunming, China, the youngest of six children. His father was a journalist and his mother a factory union leader. He remembers becoming intrigued by painting at the age of three, when his early efforts were guided by his brother. At first his father opposed this fascination with painting, but soon recognized his son's talent and became very supportive.

During the Cultural Revolution, during the late 60's, many journalists were imprisoned. Shang Ding was fourteen when his parents were arrested and held for three years. Shang Ding's life changed dramatically. Where he was once free to play with the other children, he now felt different from the others and, not knowing when his parents might return, knew he must secure a future for himself. He became even more dedicated to his study of art, with added introspection in his loneliness.

At seventeen, Shang Ding joined the army. At night, while everyone else was sleeping, he would work at his painting under the sheets, using a flashlight. Eight years of painting and working with other soldiers (never receiving a promotion) gave the young artist a deep understanding of ordinary people and their perseverance in the face of hardship and fear. He worked at the front-lines of several battles in southern China. This was after the U.S. had pulled out of Viet Nam, and China was at war with the North Vietnamese. His paintings of soldiers at war elicited the best of his talent, strengthened his character, and inspired him to continue. They also began to win awards.

In 1974, Shang Ding entered a show in Beijing where his work was noticed by Mao Zedong's wife. She was greatly impressed that such talent could come from a 20 year old youth, talked incessantly about Shang Ding, and drew great attention to his work. Professors from the Central Art Academy were equally impressed, and he, unlike Mao's wife, began his path to fame in China. He continued his training in two major art schools in China, receiving a Masters Degree from the Zhejiang Academy of Fine Arts. Eventually he became an Associate Professor at the Peoples Liberation Army Academy of Art, and delivered regular lectures at the Chinese Central Academy of Fine Arts.


Shang Ding is now a highly acclaimed oil painter in China and an eminently respected professor of painting in China. He is noted in several reference publications in China, citing great Chinese painters since the 1700's. Shang Ding documented the Cultural Revolution and Chinese army life, creating rare paintings dificult to find anywhere else in the world. He has participated in paintings the size of football fields displayed in China, and is exhibited in every major museum in China as well as Japan and several other countries. He is currently being collected by museums and galleries in the U.S..

In December of 1984, Shang Ding met an American sculptor named Chapel. Chapel had been invited to China to lecture on American bronze sculpture. Shang Ding had read about the west, and it was his dream to study art there.The two men began a friendship that would change Shang Ding's life. In November of 1988, leaving his wife and young daughter behind, Shang Ding came to the United States to begin a new career.

Shang Ding is very impressed with America, though the adjustments have not always been easy. "Life here is always new and changing; the culture is new and people are not afraid of change. China has such deep history and change does not always come easily." In China he had stories to tell, a true tale about a hard life; but his expression was limited. While in the army he felt pressed to communicate with his peers; now he wants to tell an international story, something that everyone can understand and relate to.

Shang Ding is currently showing at the
Breckenridge Gallery in Breckenridge, CO,
Keting Gallery in Basalt, CO,
Total Arts Gallery in Taos, New Mexico,
Lanning Gallery in Sedona, Arizona,
New Masters Gallery in Carmel, CA,
and Bottoms Art Gallery in Santa Barbarbara, CA.